Who couldn't use an extra $9.5 billion? According to CAQH, that is the estimated savings for providers if certain Revenue Cycle Management (RCM) transactions could be automated. What is the transaction with the biggest potential for savings? Prior authorizations. According to new data recently released in the fifth annual CAQH Index the total potential savings by automating RCM transaction savings is $11.1 billion, of which $9.5 billion is borne by providers. Below are the estimated RCM transactions and the differences between the automated and manual costs.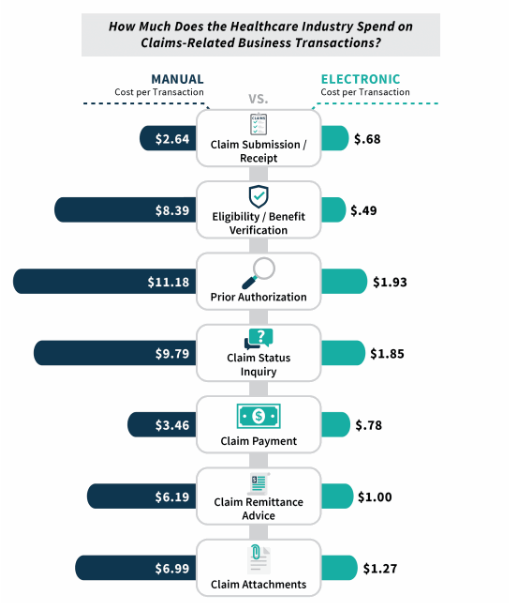 The CAQH data also shows that payers are pushing more of the burden of manual transactions to the providers by increasing the use of online portals.
"Some of the increase in potential savings is due to a rise in online portal use, which drove a 55 percent overall increase in the volume of manual transactions by providers as compared to the prior year. Transactions through web portals are considered fully electronic for health plans, but manual for providers. At the same time, adoption of fully electronic transactions grew only slightly or declined for most of the transactions affected by portal use. For prior authorizations, a substantial increase in portal use was matched by a decline in adoption of fully electronic transactions"
Athena now estimates that providers need 1 FTE covering prior authorizations for every 2.7 physicians.
In previous blogs, we've covered the difficulty in implementing electronic Prior Authorization (ePA) in Radiation Oncology and detailed why most of the progress in ePA is associated with prescription drugs. We've also projected that the growth in prior authorizations will continue, particularly in Radiation Oncology.
If prior authorizations have become an increasing pain point for your practice, contact us today to learn how New Bedford can help.